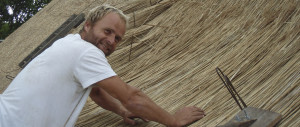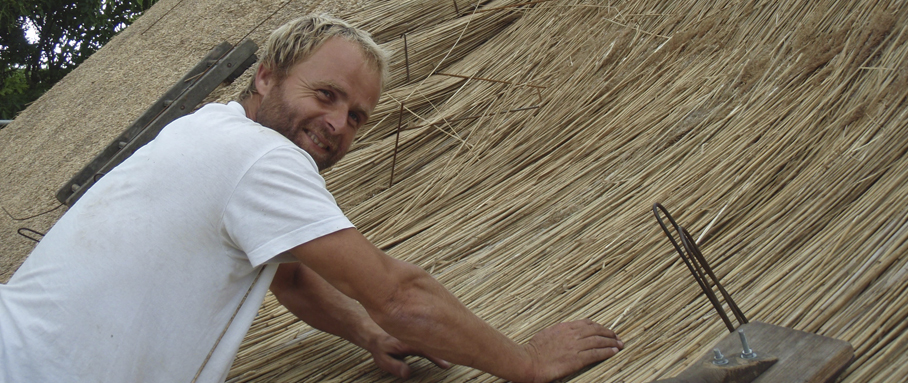 Tom Dunbar grew up on the Somerset Levels and has always loved the countryside and rural life. "My first job was at the age of eleven, working my weekends on a sheep farm, then at fourteen at a fish farm and smokery."
Upon leaving school, he flew to New Zealand to work as a shepherd and shearer on his uncle's farm, and after two years in New Zealand he returned home and went to Cannington Agricultural College to do the National Certificate in Agriculture. "This took me back to working on farms, one of which was growing wheat for thatching. I helped with the threshing of the wheat, which led me to meet a few thatchers and the seed was sown!".
A few months later, he managed to secure an apprenticeship with Jack Lewis, a well-respected Master Thatcher working around the Somerset Levels, and completed the City & Guilds in Thatching at Knuston Hall, the only thatching college in the UK. "They employed highly-skilled thatchers as tutors and the training was second-to-none." Having completed the 12-week course, he was awarded the George Dray Memorial Cup for the apprentice of the year.
Tom gained valuable experience by continuing to work with Jack Lewis after completing his apprenticeship, and worked alongside Nigel Bunce.
When Jack Lewis retired, Tom and Nigel formed 'Dunbar & Bunce' and continued to work together to the high standards they had been taught. "Nigel and I have spent many years working together to secure a fine reputation for our work. We have both recently started families, so after many years of collaboration and hundreds of jobs carried out, we are both now setting out on our own new journeys, still holding the highest respect for each other"
Tom's love of traditional buildings took him to applying for the 'William Morris Craftsmen Fellowship' in 1999 with SPAB (the Society for the Protection of Ancient Buildings).
"I was awarded a place and thus with three other craftsmen, spent a highly enjoyable and informative year traveling the country, visiting all manner of sites, projects and craftspeople connected with the conservation of old buildings. This was a fantastic year, which taught me a lot about the buildings that I'm so lucky to be working on day-by-day."
---

The Society for the Protection of Ancient Buildings was founded by William Morris in 1877 to counteract the highly destructive 'restoration' of medieval buildings being practised by many Victorian architects. Today it is the largest, oldest and most technically expert national pressure group fighting to save old buildings from decay, demolition and damage.